The much-anticipated announcement was made on July 22nd, 2022 — FedEx picture proof of deliveries on recipients' doorsteps will soon begin nationwide. The new service is called Picture Perfect Delivery and customers will not be required to sign up for an account with FedEx in order to view delivery photos. This move follows the wildly popular practice that Amazon pioneered in 2018 and applies to packages not requiring signature delivery. The offering is also provided at no additional cost to the sender or receiver of the package. All someone needs to do in order to view a photo of the delivered package is to subscribe to FedEx notifications for tracking number of the shipment.
This is a large win for DTC eCommerce sellers as UPS (and potentially USPS) will follow suit with similar offerings and photos of deliveries will become the new standard in the industry. This doesn't guarantee the permanent abolishment of missing or improperly delivered packages, but it does provide a better starting point for merchants when a customer claims a package was not received. The shipping carriers will likely continue the practice of not paying claims when a package is marked as delivered so merchant discretion will have to be taken on a case-by-case basis with customers who did not receive their original shipments.
FedEx Picture Proof — Benefits for Customers
FedEx Picture Proof of Delivery is a value-additive offering by FedEx for consumers. One of the many benefits is that customers will be able to view the exact location the driver left their package after tracking it. On top of that, they can be more confident that they'll receive their orders, or at the very least, be able to identify where it was last. With the convenience of visual confirmation, DTC retailers will receive less customer service calls about missing packages that can be cumbersome to research and are frustrating to everyone involved. Additionally, retailers may even be able to reduce delivery disputes and fraudulent product replacement costs by being more confident in denying automatically free replacement shipments.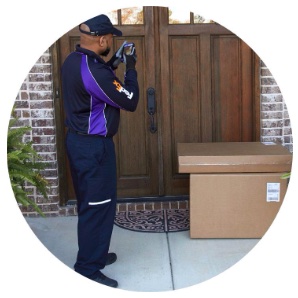 Manage Your Deliveries through FedEx Delivery Manager
Picture Proof of Delivery will be available to FedEx Delivery Manager users soon in select markets. Then, it'll be available for general release in the U.S. and Canada right before the holiday season. FedEx Delivery Manager not only allows you to receive picture proof of your deliveries, but it also allows you to keep track of your packages throughout the entirety of the delivery process. You can receive updates via phone, text, email, mobile app, or any combination of the four. Users can even request a package be re-directed free of charge. You can also request for a package to be sent to any one of the many retail pickup locations such as Walgreens, FedEx Office, and Dollar General.
The bottom line is that Amazon has forced the major shipping carriers to add additional value to what can be a clunky process of delivering packages to customers doorsteps. FedEx looks to be elevating its game and is making the Delivery Manager a truly valuable hub for managing and researching client shipments. It will be exciting to see what's next for an industry that has traditionally lacked major innovation in the past couple of decades.