Shopify is a subscription-based eCommerce platform that helps businesses of all sizes launch online storefronts and immediately begin selling their goods to customers all over the world. Shopify wisely realized that the value of their platform stemmed from the number of merchants they could sign up. There are three different Shopify subscription plans for clients to choose from – Basic, Shopify, and Advanced. We'll discuss each of the plans below in detail along with two additional offers they released in Shopify Lite and Shopify Plus. If you're still not sure if Shopify is the eCommerce platform for you after reading this article, the company offers a free 14-day trial on most of its plans for you to take advantage of. There is no obligation to purchase any of the plans once the trial period ends – they don't even require a credit card to get started!

Basic Plan 
The Basic Shopify subscription plan runs $29/month and is best suited for small businesses that are new to Shopify with occasional in-person sales, or businesses with a limited budget. It offers an online store with unlimited product listings and access to free customizable Shopify themes that can help businesses create a recognizable brand. You also can keep track of inventory in up to four locations. There is an option to include two staff accounts with the ability to customize permissions for each one. Not only do you gain access to finance reports with the Basic plan, but you can use acquisition reports, behavioral, and marketing reports to learn more about what pages are attracting traffic to your online store.
This subscription comes with card readers as well as a POS option for businesses that want to conduct in-store transactions within their Shopify account. Online purchases come with a transaction fee of 2.9% plus 30 cents. In-person chip-verified purchases are charged at a lower rate of 2.7%. This plan is perfect for the smaller brick-and-mortar retailer that wants to establish a small presence online without spending a lot of money on web development or staff to run the store.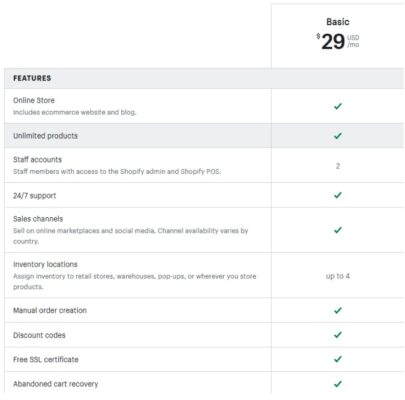 Browse all features at Shopify.com
Shopify Plan
The "Shopify" Shopify subscription plan is $79/month and is best for growing businesses that are experiencing an increase in sales online and/or in-store.  This plan includes all the features from the basic plan plus much more. Some of those features include five staff accounts instead of two, as well as five different inventory tracking locations. The Shopify subscription gives you access to more reports such as website cart analysis which can be used to understand shopping behavior and other reports covering profit, sales, and retail sales. There is also more in-depth marketing reports at your disposal to help you gain more insight into what campaigns led to more site traffic and sales. 
The Shopify subscription plan includes both a card reader and a POS solution for a retail storefront. Online purchases come with a transaction fee of 2.6% plus 30 cents. In-person purchases are charged at a rate of 2.5% and the Shopify merchant does have the option to use a different merchant provider outside of Shopify but those transactions are subject to a 1% processing fee.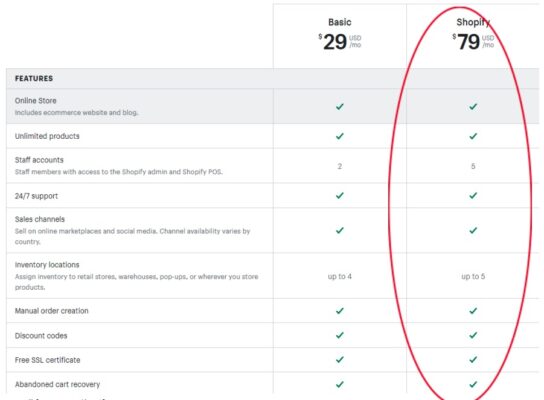 Browse all features at Shopify.com 
Advanced Plan
The Advanced Shopify subscription plan costs $299/month and works best for businesses that handle high order volume. This subscription offers all of the features of the Shopify plan plus a much broader, more advanced set of features. It comes with fifteen staff accounts and allows inventory tracking across eight different locations. This plan includes custom reports that you can modify. You can also create custom reports with Shopify's filtering and editing features. Another benefit that is important to mention is that you get access to third-party shipping calculations that display your shipping carrier's negotiated rates at check out.
The Advanced plan offers lower credit card rates and transaction fees than both the Basic and Shopify subscription plans. With this subscription, online transactions come with a fee of 2.4% plus 30 cents. In-person transactions are subject to a 2.4% fee, and you'll only have to pay a fee of 0.5% to use another payment processor.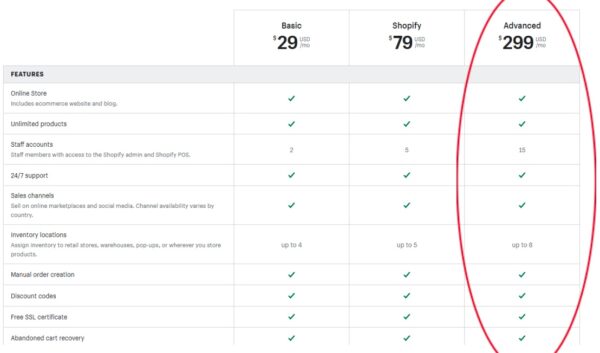 Browse all features at Shopify.com
Shopify Lite                                        
Lite is an inexpensive Shopify subscription plan for only $9 that is good for those who don't have an online store but still want to sell online. This could be through a blog, social media, a personal website or pop-up shops or markets. You'll have access to abandoned cart recovery which enables you to alert customers when they've left items in their cart without completing their purchase. You will also have access to the overview dashboard where you can monitor your performance as well as obtain finance reports to track your sales and payments.
With this plan, transactions made with the card reader incur a 2.7% fee.
Shopify Plus
Costing a minimum of $2,000/month, Shopify Plus is best for businesses with a high volume of sales, a large social media following, or ones that are ready to sell their products globally. With this plan, you'll have the ability to set up an unlimited amount of staff accounts and be able to manage everything from staff accounts to stores all from an enhanced admin account. It includes a customizable checkout and exclusive access to APIs. You'll receive tools to help you automate your most complex processes and campaigns so that you can save time and money. To top it off, the Shopify Plus plan includes the merchant success program which can help you define your company's goals and ultimately optimize your store.
Merchant processing rates vary by country, but the Plus plan offers the lowest blended rate offering to merchants for any of the Shopify plans. Transactions made through a third-party processor are subject to a .15% transactional fee.
Plan Conclusions 
Shopify subscription plans offer a robust set of features and shopping cart solutions for nearly every business regardless of its size or online ambitions. The company's app ecosystem continues to grow, and small businesses now have tools at their disposal that used to only be available to the largest Fortune 500 companies. Shopify's mission is to "make commerce better for everyone" and it's fulfilling this vision by making it nearly frictionless for businesses of all shapes, sizes, and types to start selling online in a matter of minutes.