The world of logistics is a dynamic and rapidly evolving environment. As a nation of on-demand consumers, we are all greatly dependent upon the various companies that make up the logistics spiderweb that is ingrained in the fabric of our society. Logistics in its most basic defined form is the process of managing how resources are obtained, warehoused, and transported.
Without a highly sophisticated logistics network, the average consumer wouldn't be able to enjoy a delicious Starbucks coffee in the morning or fuel their gas tank on the way to work. In fact, consumers wouldn't be able to partake in almost any of the consumption habits or activities that we have become entitled to on a daily basis. Without logistics, we would essentially be living in a bunch of small agrarian societies.
It was the development of the robust logistics networks over the past two centuries that started with the horse and buggy, evolved with the railroad networks, and now is a complex, globally integrated network of thousands of companies that allows us to enjoy goods and services with inputs and products from all over the world.
A common term in the industry is "PL" which stands for Party Logistics and is the classification of how a company participates in the logistics value chain. If you're an eCommerce business owner, you are probably already familiar with the most common form of PL which is the 3PL that handles online shipments on your behalf. There are many other classifications of Party Logistics though and we'll explore each one of them and provide examples of companies operating each domain.
First-Party Logistics (1PL)
A 1PL provider is the manufacturer of any given product that transports their own goods. By definition, all of the transportation for a 1PL is handled internally, thus eliminating any middlemen. A 1PL is not only responsible for investing in and managing their own fleet of vehicles, but they also must provide warehousing and storage of their goods, and control the many other complex facets..
1PL's are less common than they used to be when large corporate conglomerates were popular, and shipping and fulfillment networks were less robust. An example of a 1PL is a local milk manufacturer that does all their own distribution to grocery and convenience stores.
Second-Party Logistics (2PL)
2PL providers focus solely on the transportation aspect of logistics. They typically own and manage their own fleet of trucks, planes, and/or ships. Most businesses across the world will subcontract a good portion of their freight to the major shipping carriers (the 2PL provider) to transport their products from one location to the next.
The most common examples of 2PL's are FedEx and UPS, but there are many other smaller shipping consolidators, such as Rakuten, that piggyback on multiple shipping carrier networks. These businesses have all invested in substantial CapEx in their networks over the last several decades as they continue to grow their yearly volumes with the increased popularity of eCommerce and DTC business.
Third-Party Logistics (3PL)
3PL providers, in short, are warehousing partners that companies can use to outsource certain (or all) of their logistics operations such as warehousing, order distribution, packaging, shipping, etc. 3PL's typically work with multiple companies at a time, and since they offer a wide range of services, act as a single point of contact for them with their logistics operations. Below are a few of the primary services that 3PL's can offer:
Order Fulfillment

Cross-Docking

Inventory

Management and Storage

Kitting

& Assembly Services

Freight Forwarding and Brokering

Reverse Logistics

(

returns

, etc.)
With the rise of eCommerce and Omni-Channel fulfillment, outsourcing some or all of these functions to a 3PL has become not only extremely savvy, but almost necessary in some business cases. 3PL's allow you to partner with a company that can handle the mundane tasks of order fulfillment and warehousing and allows your business to run more seamlessly. They save customers time and afford them the luxury of spending more time to focus on growing their businesses.
The most famous example of a 3PL is Amazon's third-party Seller Central network, which provides companies a platform to sell their product, but alleviates the headache of handling the order fulfillment and transportation. There are however hundreds of 3PL's across the US and they come in all shapes and sizes. 5 Logistics operates as a 3PL and has a variety of partnerships with other logistics providers across the nation.
Fourth-Party Logistics (4PL)
4PL providers (or lead logistics) are one tier above 3PL providers in that they have more responsibility and control over their clients' supply chain. They essentially act as experts or consultants hired by a company to autonomously make decisions regarding the company's entire supply chain. Instead of just being logistics providers, they act as company agents and choose shipping and fulfillment partners on their behalf. Businesses outsource both the oversight and organization of most aspects of their supply chain to 4PL providers.
4PL's offer a selection of managerial services including project management, business planning, and a plethora of other related solutions. Some even help manage multiple 3PL's for their clients. 4PL's are typically more attractive to larger businesses and some of the nation's most famous logistics networks like XPO Logistics operate in a 4PL capacity on behalf of clients.
Fifth-Party Logistics (5PL)
Similar to 4PL's, 5PL companies act on behalf of clients to manage the entirety of their supply chain. 5PL's are a relatively new development in the industry and they provide a fully integrated solution for a client's supply chain including selecting and integrating various IT systems to manage the supply chain.
They will work with multiple shipping carriers and 3PL warehouses on behalf of their clients and will take a holistic approach to supply chain solutions including creating Business Intelligence (BI) capabilities rather than just the cheapest price. There is not a major player that has emerged as a 5PL, but it is expected that some tech-enabled players will soon enter the fray.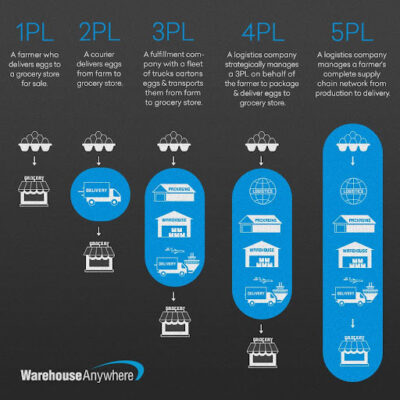 Conclusion
As you can see, the supply chain network is expansive and there is room for a lot of different players to fill the various needs in the industry. The terms "6PL" and "7PL" will likely be emerging soon to further enhance the technology infrastructure in the industry. Logistics is evolving quickly into the 21st century but practices across the value-chain still rely on antiquated technology and archaic processes to keep goods moving.
The one thing we know for certain is that the investment dollars will continue pouring into the industry and the players across the entire value-chain will need to keep evolving and improving to meet the on-demand customer expectations.