Ever since the COVID-19 pandemic permanently altered many of our routine habits, consumers have been exponentially turning to online shopping, forcing many businesses to rely on eCommerce packaging and shipments as part of their daily sales mix. It's no secret that brick-and-mortar stores offer brands the opportunity for customers to interact with their products directly. It's a controlled experience where retailers can deliver their products to customers via their own trained workforce and customers walk out with products packaged nicely in branded shopping bags.
Contrarily, eCommerce improves convenience and customer satisfaction by increasing the shopping experience for the customer. Don't forget, it also poses a new challenge for DTC retailers as they depend on outsourced personal in the form of 3PL operators and shipping carriers to get their products to the customer's doorstep on a given day. A shipment that never shows up or is damaged in transit due to poor packaging severely weakens customer retention. Dull eCommerce packaging can also be a signal for some customers who typically have 1-3 packages showing up on the doorstep on a given day.
With all of the upfront investments for eCommerce like setting up an eCommerce website, establishing a merchant processing account, and of course eCommerce packaging. Many retailers fail to put much thought and effort into what type of packaging they want to use for their shipments, what types of filler materials they want to protect their products, and lastly what type of packing methods they want their fulfillment center to use for their orders.
All aspects of eCommerce packaging require thought and need to be constantly evaluated for feedback from customers about the arrival status of their online orders.
Standard Corrugated Packaging
Most products are shipped in some form of a corrugated cardboard box. Corrugate boxes are an indispensable material in the online shipping world because they come in a variety of sizes, are relatively easy to obtain, and are sturdy in transit.
There are single-walled and double-walled versions of corrugate shippers and the fragility of your products will likely determine what level of protection you need to invest in for your eCommerce packaging. Most fulfillment centers have a large variety of corrugate boxes available on-demand and charge per box used rather than requiring you to hit a MOQ from a packaging supplier.
One important factor to consider when using corrugate eCommerce packaging is the type of filler you are going to put inside the box. There will often be some "dead air" in a shipment and that unfilled space causes items to shift in transit increasing the chances of damages. Kraft paper is a good choice for filler as it is versatile, flexible, and eco-friendly. Biodegradable packing peanuts are another cost-effective, all-natural filler to consider.
Plastic materials like bubble wrap and air pillows offer great protection but are less environmentally friendly options. Different product characteristics will require a variety of packaging methods, and you'll want to involve your fulfillment center in strategic discussions about the best Standard Operating Procedures (SOP) to put in place to efficiently and securely package your orders.
Dimensional weight is also a consideration in packaging as the shipping carriers calculate dim weight based on the corrugate box used for a shipment. You want to use a package that's large enough to provide proper protection with enough filler but not so big that your package is charged dimensional weight (rather than the actual product weight). Filler materials typically don't weigh very much in aggregate so want to be conscious of over-packing your orders in larger boxes.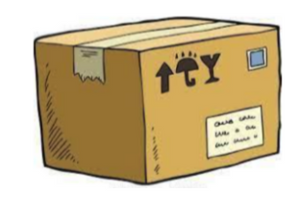 Polybags or Bubble Mailers
Polybags and bubble mailers are typically the cheapest containers to ship a product in. They also offer the least amount of protection in transit, so you will only want to use them if your product is relatively lightweight and indestructible. They are great options for apparel or products already encased in another protective outer layer like a tube. Polybags are also very affordable to imprint a company logo on which provides a great delivery experience to the customer's doorstep.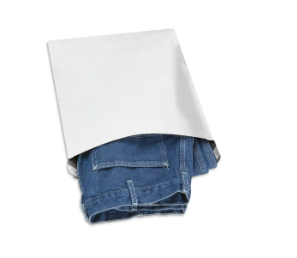 Fragile Packages
Fulfillment centers are shipping all types of goods online now which means that more fragile items are going through the carrier networks than ever before. Since fragile items are more susceptible to breaking, they require specialized eCommerce packaging attention. Bubble wrap is usually the most effective packaging material to allow you to securely ship delicate products. There are usually extra handling costs with tightly wrapping bubble sheets around your products, so you'll want to discuss this with your fulfillment center ahead of time.
Fragile stickers are also a great low-cost addition to all packages that have the potential to get damaged by rough handling from the carriers. They won't guarantee that the carriers handle the package with any more diligent care but are at least a warning to the personnel at the carrier facilities that the package shouldn't be tossed into a shipping bin.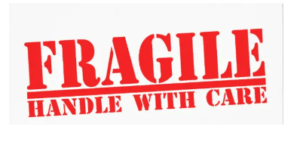 Heat-Sensitive Packages
An emerging trend in eCommerce packaging is the shipment of perishable items. Proper planning with these shipments is vital and the weather conditions during the time of shipment must always be considered when releasing the package to the carrier. Extreme heat and frigid cold are both accentuated by the fact that packages can be left on carrier trailers subject to the elements for periods of up to 24hrs at a time.
Packing materials for temperature control have come a long way from the days when dry ice was the only option to keep something cold for an extended period. New gel packs and liner bags are easier to pack than dry ice and can provide 24-48 hours of protection for products that don't have to travel an extremely long distance. You can typically pack them inside of a normal corrugate box and therefore have a relatively cost-effective way to ship perishable goods.
Hazardous Packages
Because hazardous, aka HAZMAT, products are flammable, pressurized, and/or corrosive, they fall under very strict eCommerce packaging, shipping, and storage requirements. These requirements are regulated and vary by product so the primary key to safely transporting them is to properly package and label them according to the regulations.
You'll want to plan ahead of time with your fulfillment center to ensure they are certified to handle your HAZMAT products and that they have received proper, written approval from the carriers to ship these products both via Ground and Express service levels.
Custom Branded Shipper Boxes
Want to strengthen brand loyalty and recognition? Custom-designed eCommerce packaging commonly referred to as shipper boxes or shipping bags are expensive, but the investment can be justified if it's a part of a company's overall marketing and branding strategy. In fact, according to Dotcom Distribution, 52% of consumers are likely to make repeat purchases from an e-retailer with premium eCommerce packaging.
Your fulfillment center should be able to seamlessly incorporate your custom shipper boxes into their daily workflow and notify you when quantities are getting low for you to reorder. It's important that you check in frequently on stock levels as reorder times on custom packaging are often 3-4 weeks.
Don't want to break the bank for a custom shipper box? The are several cost-effective measures such as branded logo tape, insert stickers, and personalized gift messages that will allow you to make your package feel more like custom-designed eCommerce packaging and they don't add a bunch of extra fulfillment labor to the pack-out process.
Be sure to discuss these options with a fulfillment center like 5 Logistics as they typically have a variety of customers they work with and can share some best practices that are being utilized by other clients.
In conclusion, eCommerce packaging decisions are VERY important and need to be a part of your overall eCommerce strategy. A timely, well-delivered package is the new table stakes in the world of eCommerce. Make a good first impression for that hard-earned online sale by using the best practices listed in this post and getting your packaging strategy right from the get-go!